Imota Residents Smile As Caleb University Supports Host Community With Palliatives- By Olawale Adekoya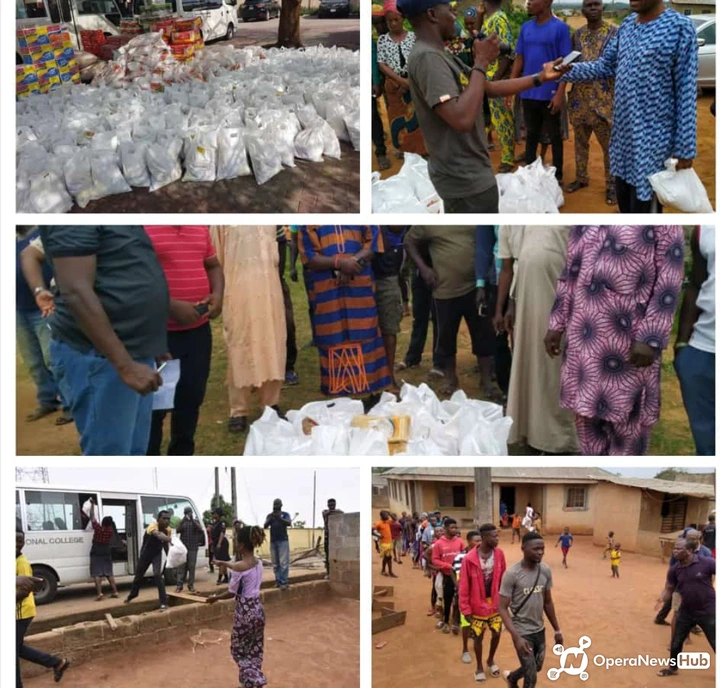 "We make a living by what we get, but we make a life by what we give." .....
The quote above must have inspired the management of Africa's Best Private University in Research and Entrepreneurship Development in embarking on a strategic means of reaching out to the host Community.
The tertiary institution has supported over 3, 000 residents of Imota, with various foodstuffs in a bid to alleviate the challenges of the current COVID-19 lockdown in the state. The exercise which covers the various sections of Imota town, was enthusiastically received by beneficiaries who prayed for the progress of the University and Group of Schools.
This gesture further corrobates the core values of the school which includes: Godliness, Innovations, Service, Innovation, Integrity, Teamwork, Excellence, Creativity.
The University came into existence following its approval by the Federal Government of Nigeria in 2007, which was sought after by the Proprietor and Chairman, Dr Oladega Adebogun. Academic programmes at the University started fully in 2008, with the University opening its doors to its first set of 141 students across two colleges.
Currently, the institution offers over 16 undergraduate degree programmes and postgraduate programmes across four (4) colleges. Most of the programmes at the University have been duly accredited by the National Universities Commission (NUC) and other relevant professional bodies.
Caleb University's unique selling points are its serene campus with a picturesque topography, an ideal setting for study and reflection, uninterrupted academic calendar, e.t.c. It has a mission to create a unique institution committed to the pursuit of academic innovation, research and community service.